Lodging at Palmer Brook Sportsman's Club
The club also has available to its members as well as outside members the ability to rent the Fern Lake Lodge which is located at the clubs main gate off of Fern Lake Road.  The Lodge is situated at the head of Fern Lake with majestic views of White Face Mountain and Fern Lake right from the back deck.  The Lodge features six bedrooms with additional sleeping quarters in the walk out basement, four full bathrooms, a magnificent commercial style kitchen, large dining room, living room, large rear deck and patio area, full walk out basement with bar and recreation area; the Lodge will accommodate eighteen people and is ideal for large groups of family and friends.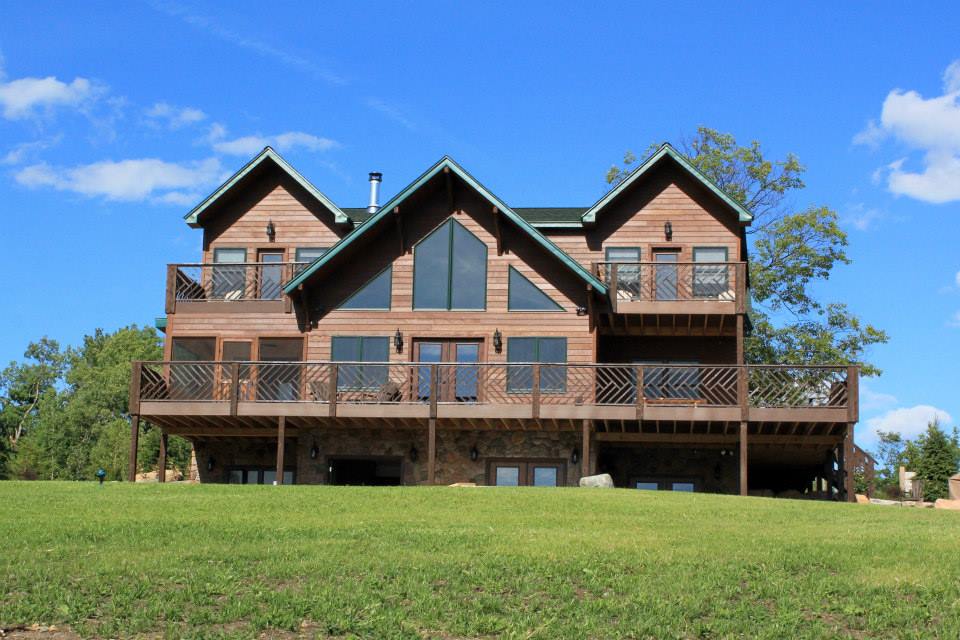 By combining the clubs summer recreational opportunities, hunting and fishing you can maximize your vacation potential.  During the summer months you can stay at the Lodge and enjoy high end lodging while being able to enjoy nearly six thousand acres of rugged wilderness right out your front door.  With over forty miles of ATV trails you can ATV all week and explore mountain tops and enjoy trout fishing in our stocked ponds, spend a night camped out in the back country or just enjoy the campfire until you're ready to return to civilization back in the comfort of the Lodge.
During the Hunting season you can combine world class North Country hunting with sophisticated lodging and enjoy both at the same time.  The club offers a unique opportunity for hunters to stay in style and comfort while having access to a world class six thousand acre private hunting club right outside your front door.  As part of our stay and hunt package you will be provided the opportunity to hunt from one of several of the clubs fully enclosed hunting blinds throughout the property and or the opportunity to stalk hunt over a thousand acres of private property.
Spring Fishing Season Rates with Fern Lake access only
Private lodge Rental is ($4,000.00) per week or ($575.00) per day with a three day minimum stay.
Summer Recreation Season Rates
Private lodge Rental is $4,500.00 per week or $700.00 per day with a three day minimum stay.
Hunting Private Lodge Rental
Private lodge rental is $4,000.00 per week. In addition there is a $500.00 per week per hunter fee. Each hunter will be provided with an enclosed blind and a member to assist them during their stay.
Hunting Semi-Private Rental
Semi private lodge rental rate is $675.00 per bedroom per week. Tenants should expect other guests will be sharing the lodge (could include club members and/ or outside guests.) The club will try to book a min. of 3 bedrooms during any semi private week or it reserves the right to cancel the reservation.
We will assign you a club member assist you in getting to and from your stand each day and to maximize your hunt.  In addition to big game hunting guests are entitled to walk the property and bird hunt as well.  The lodge is available during hunting season as a private rental and it is also available to club members on a per person basis for lodging only.  We welcome you to come and share a memorable hunting experience in the North Country, were sure it will be an experience you will come back for regularly.
All guest hunters must agree to obey the clubs hunting rules as defined in the clubs specific hunting leases, as well as the clubs General Rules and Regulations and all applicable New York State laws.
Please contact us for additional information so we can tailor a hunt specifically for you.